The Old Home
Photo from www.Irsch/Saar.de
The New Land
If you read posts on this blog regularly, you will recognize the name of the author of today's post which I have translated into English - Ewald Meyer. Herr Meyer has written two books, one about the village in which he now lives, Irsch; and one about the village in which he was born, Beurig. Those two villages are about a mile apart. So Ewald Meyer definitely has a wealth of information on the history of these two villages in Kreis Saarburg.
Herr Meyer and his wife Helena have become good friends who continue to help me with my research whenever I need some elusive information on life in Kreis Saarburg or translation from the old German scripts. To my surprise, this month Ewald Meyer wrote a piece about Irsch's Germans in America for the Irsch monthly on-line newsletter. The family he described just happen to be my great-great grandparents, Johann Meier and Magdalena Rauls and their children. He wrote in German so, although I was bursting with pride and wanted to share my delight, I could not refer my friends or my blog's readers to a URL. Therefore I did my best to translate his article as my blog post for this month.
With apologies for any translation mistakes I make with my self-taught German, this is my attempt to share the May Irscher Newsletter article writtem by Herr Meyer to be read by the residents of Irsch, Kreis Saarburg, Rhineland, Germany."
"During the colonization period of the United States of America, Germans were the largest non-English-speaking population. Around 1900, Wisconsin had about 2 million inhabitants, 710,000 of whom were of German descent.
After publishing a list in 2002 of emigrants to the United States in the "Irsch Chronicle" on the Irsch Homepage
, descendants of Irsch immigrants to the U.S. finally had an answer to their questions about the German home of their ancestors, "Where is Irsch in the former Prussia?" From then on, continuing to this day, a flood of requests for information have been received over the Internet. Visitors from overseas who are looking for their ancestors are not rare in Irsch.
A particularly strong connection exists between a woman from Waukesha, Wisconsin and our family. For the time being, she has intensively researched the history of the emigration of her great-great grandparents: John Mayer (Meier, Meyer, Maier) from Irsch and Magdalena Rauls from Oberzerf. She is writing a book about them. In advance of that, extensive information on the project is contained in her versatile blog about Irsch, indexed on the Irsch-Saar website and called "Village Life in Kreis Saarburg, Germany" It is under the "Documents" link. To date, she has traveled to Germany four times and now calls our country "my old homeland."
In April 1861 her great-great grandparents with their family and some other families from Irsch started on their way to Le Havre. After receiving the naturalization permit, the 35-year-old John Mayer and his 33-year-old wife Magdalena Rauls Meier with their 10-year-old son Mathias; the 7-year-old daughter, Anna; the son, Johann 2; Michael,10 months old; and a 50-year-old uncle left for America on board the sailing ship "Rattler." A total of 197 passengers were crowded into it, including yet more families and people from Irsch. Thirty-two days after a perilous voyage across the Atlantic, they reached the Port of New York on 9 May 1861.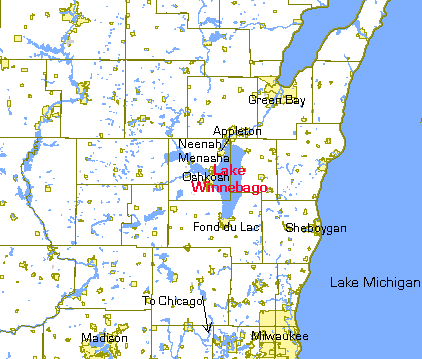 At length they settled in St. John, Wisconsin where already by 1856 some former immigrants from Irsch had joined a few others in this near wilderness in northern Calumet County. Possibly among them were John Mayer's sister Anna, born on February 26, 1829 and brother Michael, two years younger. The early years of the settlers were marked by hard work to convert the forest land into fertile farmland. Today, St. John in Woodville Township is located between Lake Winnebago and Lake Michigan in one of the most fertile farmlands in Wisconsin.
Since the settlers were almost all Catholic, in 1862 they established a parish church built of wooden logs. Between 1862 and 1869, the parish was run by the pastor from another village called Hollandtown (because it was first settled by emigrants from Holland). He came once a month to celebrate the Mass and the sacraments. In 1865 a new church was built because the log church was now too small for the church members. It was consecrated by the Archbishop of Milwaukee and dedicated to St. John the Baptist. The old log church became the first school building for St. John. The children of the settlers of St. John were taught by Theresa Wolf, a German Catholic who had, with her parents, immigrated a short time before. In 1870 Father Anton Leitner became the first priest of the parish.
The parish of St. John celebrates its 150th anniversary this year on three Sundays in May, after re-establishing the original stones in the old part of the cemetery and doing extensive renovation and restoration work on the church. The Centenial festival committee was led by Joe Kees and his sister, two descendants of an early Irsch immigrant, Michael Kees, their great-great grandfather. The religious belief that originated with the St. John founders is still conserved and living today.
St. John the Baptist Church, St. John, Wisconsin
St. Gervasius and Protasius Church in Irsch
Photo from www.irsch/saar.de
Ewald Meyer,
Germans in America
,
htpp://www.irsch/saar.de